Kim, Tongfi. Kim, Yongho. Kimball, Daryl G. Kimura, Kan. King, Robert. Kissinger, Henry A. Nuclear Weapons and Foreign Policy. Klinger, Bruce. Klingner, Bruce. Knopf, Jeffrey W. Harrington, and Miles Pomper. University of Georgia Press, Ko, Sangtu.
Frommers Maui 2011?
Prague Agenda 2016.
Technology Scorecards: Aligning IT Investments with Business Performance?
Ko, Sangtu, and Seong-yong Park. Koithara, Verghese. Kolbin, Alexander S.
Search Options
Korb, Lawrence J. Krause, Joachim ed. Iran's Nuclear Programme: Strategic Implications. Krepon, M. Krepon, Michael. Krepon, Michael, and Julia Thompson, eds. Krieger, Zanvyl, and Ariel Ilan Roth. Kristensen, Hans M. US Nuclear Forces, Bulletin of the Atomic Scientists Kroenig, Matthew. Explaining Great Power Nonproliferation Policy. Basingstoke: Palgrave Macmillan, Lexington Books, Kukreja, Dhiraj.
Kumar, A. New Delhi: Cambridge University Press, Kuperman, Alan J. Abingdon, Oxon: Routledge, Kurzrok, Andrew, and Gretchen Hund. Kutchesfahani, Sara Z. Kwak, Tae-Hwan. Kwon, Bo Ram. Chung, Kyung-Young. Lahille, Eric. Lake, Daniel R. Landau, Emily B. Langewiesche, William. Farrar, Straus and Giroux, Lankov, Andrei. Lantis, Jeffrey S.
A Perpetual Menace - University of St Andrews
Larkin, Bruce D. Designing Denuclearization: An Interpretive Encyclopedia. New Brunswick, N. Larsen, Jeffrey A. Kartchner, eds. On Limited Nuclear War in the 21st Century. Lavoy, Peter, ed. Nuclear Weapons Proliferation in the Next Decade. Berkeley, University of California. Lawlor, Bruce. Lawrence, W. Prabhakar, Joshua H. Ho, W. World Scientific Publishing Company, Lebovic, James H.
Baltimore: Johns Hopkins University Press, Lee, Alex Soohoon, and Sung-han Kim. Lee, Claire Chaeryung. Lee, Hong Yung. Lee, John S. Lee, Junghoon. Lee, Su Hoon. Lynne Rienner Publishers, Lettow, Paul. Leveringhaus, Nicola, and Kate Sullivan de Estrada. Levite, Ariel E. Lewis, George N.
Location & Availability for: A perpetual menace : nuclear weapons and
Lewis, Jeffery G. Lewis, Jeffrey G. Paper Tigers: China's Nuclear Posture. Lewis, John, and Litai Xue. China Builds the Bomb. Lewis, John W. Li, Wei, and Han Su. Lieber, Keir A. Liebl, Vernie. Lin, Taiho. Lindemuth, Irvin R. Liping, Xia. Litwak, Robert S. Lochbaum, David. Stranahan, The Union of Concerned Scientists. Fukushima: The Story of a Nuclear Disaster.
The New Press, Logan, David C. The Diplomat. Long, Austin, and Brendan Rittenhouse Green. Longfan, Jiang, and Wang Haifan. Lotfian, Saideh. Lovins, Amory B. Lukin, Artyom. Lundgren, Carl A. Assessing the Probability of a Nuclear War. Luongo, Kenneth N.
Lysenko, Mikhail. Mack, Andrew. Magno, Paul. Mahapatra, Chintamani, and Monish Tourangbam. Malhotra, Aditi, and Sitakanta Mishra. Malik, Priyanjali. The University of Chicago Press, Malley, Michael, and Tanya Ogilvie-White. Malley, Michael S. Manning, Robert A. Manyin, Mark E. Marks, Joel. Structural Realism and the Proliferation of Nuclear Weapons. Marwah, Onkar. Mathers, Jennifer G. Matinuddin, Kamal. The Nuclearization of South Asia. Mattiacci, Eleonora, and Benjamin T. Mattox, Gale A. Mayer, Jeremy D. Mazarr, Michael J. McCornac, Dennis C. McDonnell, Timothy.
McGlinchey, Stephen. McGrath, Kaegan. Ratification of the CTBT. Medcalf, Rory, and Fiona Cunningham, eds. Woollahra: Longueville Media, Medeiros, Evan. Mehta, Rupal N. Meier, Oliver, and Simon Lunn. Meyer, Paul. Mian, Zia. Gautam Publishers, Mian, Zia, and Alexander Glaser. Miasnikov, Eugene. Mikheev, Vasily V. Miller, Nicholas L. Miller, Steven E. Min-Yong, Lee. Nuclear Command and Control in Pakistan. Mishra, Sitakanta.
Please Consider Donating
Aligning Unevenly: India and the United States. Honolulu: East-West Center, Mitchell, Derek J. Mochizuki, Mike M. Ollapally, eds. Modongal, Shameer. Mohan, C. Moltz, James Clay. Moltz, James Clay and Alexandre Y. Moltz, James Clay, Vladimir A. Orlov, and Adam N. Monshipouri, Mahmood, and Manochehr Dorraj. Montgomery, Evan Braden, and Eric S. Moon, Chung-in. Moore, George M. Banuelos, and Thomas T. Moore, Gregory J. Moore, Thomas C. Morady, Farhang. Moran, Matthew, and Christopher Hobbs. Moshaver, Ziba. Nuclear Weapons Proliferation in the Indian Subcontinent.
Mount, Adam. Mousavian, Hossein. Mousavian, Seyed Hossein. Mousavian, Seyed Hossein, and Sina Toossi. Mousavian, Seyyed Hossein. Mueller, John. Mukhatzhanova, Gaukhar. Mun, Cheol. Murooka, Tetsuo and Hiroyasu Akutsu.
Nagappa, Rajaram. Nakato, Sachio. New York, NY: Routledge, Narang, Vipin. Nathan, Andrew J. National Institute for Public Policy. Nuclear Force. Nayan, Rajiv. Nephew, Richard. Nguyen, Hong Thao. Nguyen, Viet Phuong. Nicholas, Thomas M. No Use: Nuclear Weapons and U.
National Security. University of Pennsylvania Press, Nikitin, Mary Beth D. Niksch, Larry A. Ninkovich, Rrank. Norris, Robert S. Nuclear Energy Institute. Oberdorfer, Don and Robert Carlin. Oborne, Peter, and David Morrison.. Ogilvie-White, Tanya. Ogilvie-White, Tanya, and David Santoro, eds..
New York [u. Olsen, John N.
Dams and Appurtenant Hydraulic Structures, 2nd edition!
Module aims;
Nuclear Terrorism and Global Security : Alan J. Kuperman : !
A Perpetual Menace - Nuclear Weapons and International Order (Hardcover).
Onderco, Michal. Onderco, Michal, and Paul van Hooft. Onderco, Michal, and Wolfgang Wagner. Ouagrham-Gormley, Sonia Ben. Palamar, Simon. Panda, Rajaram. Pandza, Jasper. Pant, Harsh V. Oxford, U. Parameswaran, Prashanth. Parasiliti, Andrew. Parchami, Ali. Pardesi, Manjeet S. Pardo, Ramon Pacheco. Paret, Peter, and Gordon A. Craig, eds. Princeton: Princeton University Press, Park, Chan Kwoun. Parsi, Trita. New Haven, Conn. Patrikarakos, David. Longdon: I. Tauris, Patton, Tamara. Paul, T. Payne, Keith B. Foster Jr.
Peoples, C. Perkovich, George. California: University of California Press, Perkovich, George, and James M. Acton, eds. Perrow, Charles. Pickering, Thomas R. Pifer, Steven. Pifer, Steven, and Oliver Meier. Pilat, Joseph F. Busch ed. Routledge Handbook of Nuclear Proliferation and Policy. Routledge: London, January Edited by Charles K. Westview Pr Short Disc , Johns Hopkins University Press, Pillar, Paul R. Sebenius, and Michael K. Plant, Thomas, and Ben Rhode.
Podvig, Pavel. Podvig, Pavel, editor. Russian Strategic Nuclear Forces. Pollack, Jonathan. Pollack, Jonathan D. Pollack, Joshua. Pollack, Kenneth M. Unthinkable: Iran, the Bomb, and American Strategy. Potter, William C. Powell, Robert K. Prabhakar, Lawrence W. Hackensack, NJ: World Scientific, Prasad, Jayant. Pritchard, Charles L. Raas, Whitney and Austin Long. Rabinowitz, Or.
A Perpetual Menace: Nuclear Weapons Today, Tomorrow, Forever?
Rabinowitz, Or, and Nicholas L. Raghavan, V. Rai, Ajai K. New Delhi: Pearson-Longman, Raj, Baldev, and P. Vasudeva Rao. Rajagopalan, Rajesh, and Atul Mishra. Nuclear South Asia: Keywords and Concepts. New Delhi: Routledge, Rajagopalan, Rajeswari Pillai. Rajaraman, R. Ramana, M. Penguin, Ramberg, Bennett. Rath, Saroj Kumar. Causes and Consequences of Nuclear Proliferation.
Rauf, Tariq, and Robert Kelley. Raviv, Dan. Levatant Books, Reardon, Robert J. Redick, John R. Reed, Thomas C. Minneapolis: Zenith, Rehman, Shahid-Ur. Long Road to Chagai. Islamabad: Print Wise Publications, Reif, Kingston. Reif, Kingstong, and Maggie Tennis. Reiss, Mitchell. Woodrow Wilson Center Press, Columbia Univ Pr, Rezaei, Farhad. Rezaei, Farhad, and Ronen A. Rezaei, Farhad, and Somayeh Khodaei Moshirabad. Rhodes, Richard. Vintage, First Edition. The Making of the Atomic Bomb. Anv Rep. Rich, Timothy. Richard C. Richelson, Jeffrey T.
New York: W. Rietiker, Daniel. Riqiang, Wu. Roberts, Brad. The Case for U. Nuclear Weapons in the 21st Century. Stanford, California: Stanford Security Studies, Robock , Alan, and Owen Brian Toon. Roehrig, Terence. Rose, Gideon, and Jonathan Tepperman. Rosenbaum, Ron. Roy, Denny. Roy, Susan. Bomboozled: How the U. Pointed Leaf Press, Rozman, Gilbert. Rublee, Maria Rost. Athens: University of Georgia Press, Ruehsen, Moyara, and Leonard Spector. Russell, James A. Ruzicka, Jan. Ryu, Jiyong, and Dongmin Lee. Saalman, Lora. Nuclear Posture Review.
Washington: Carnegie Endowment for International Peace, Saalman, Lora, ed. Sadjadpour, Karim and George Perkovich. How serious is the threat of nuclear terrorism and can it be reduced? Is nuclear disarmament necessary or possible? This module will introduce you to issues and concepts that will help you examine these questions and think more broadly about how human society has adapted to 'the Bomb' and its spread within a system of competitive states and complex societies.
In doing we will examine the history of the nuclear age from the Manhattan Project to the current global nuclear order, concepts and cases of nuclear deterrence, nuclear proliferation and counter-proliferation, and nuclear abstinence and disarmament. Over the course of the module we will consider the long-term prognoses for managing the risk of catastrophic nuclear violence.
I encourage you to arrive at your own conclusions about whether the? Demonstrate empirical and conceptual knowledge of nuclear proliferation, non-proliferation, deterrence and disarmament processes and cases. Identify and critically appraise competing frameworks for understanding relationships between nuclear issues and policy actions. Organise and synthesise concepts and information to assess the complexities of contemporary of nuclear challenges.
Critically engage with the debate on nuclear deterrence, disarmament, ethics and security. She is a board member of several non-profit institutions in the US and Europe. She has lectured and published on international affairs and disarmament. Previously, Dr. Loukianova was a program officer at the Stanley Foundation, where she focused on nuclear material security issues and helped to organize official civil society side events to the and Nuclear Security Summits.
Between and , she was a research associate focused on Russian nuclear weapons and fuel cycle issues at the James Martin Center for Nonproliferation Studies at the Monterey Institute of International Studies. His research interests focus on security politics in Europe, particularly looking at issues relating to borders, security, mobility and migration.
Tallis also researches wider issues relating to the politics, societies and cultures of Central and Eastern Europe, critical geopolitics, the politics of the European Union and ways to put critical research into policy and practice. Since , Dr. His research focuses on disarmament issues, theories of democratic peace, present great power relations and transatlantic relations.
His research explores the political economies of institutional arrangements, focusing on the ways in which rule structures condition the behaviors of states and other actors. He teaches undergraduate courses on conflict and security and graduate seminars on the politics of weapons and the politics of crises and disasters.
Jeffrey Fields is assistant professor of the practice of international relations and director of the Dornsife Washington, DC Program at the University of Southern California. His research focuses on American foreign policy, international security, and the proliferation of weapons of mass destruction. Prior to coming to USC, he served as a senior adviser and political-military analyst with the U. Department of Defense and as a foreign affairs officer with the U. State Department, where he helped advise the special representative for nonproliferation.
He is an expert on U. He is also well-known for his books - especially Exporting the Bomb: Technology Transfer and the Spread of Nuclear Weapons , which received an Honorable Mention in the competition for the International Studies Association Best Book Award - and his articles and commentaries in several media outlets.
He served as a foreign policy adviser for Mitt Romney in the Presidential Campaign, and before that he was a special adviser in the Office of the Secretary of Defense on a Council on Foreign Relations International Affairs Fellowship, and in this position he worked on defense policy and strategy for Iran. In , he worked as a strategist in the Office of the Secretary of Defense, where he authored the first-ever U. Michal Smetana is a Research Fellow at the Center for Security Policy at the Charles University in Prague, where he also teaches several courses with focus on international security.
He published several peer-reviewed articles in academic journals on issues related to nuclear proliferation, NPT regime, arms control and disarmament, US nuclear policy, and deterrence theory. Richard Price Ph. His research interests focus on the role of norms in world politics, particularly norms limiting warfare; constructivist international relations theory; normative international relations theory; and ethics in world politics.
A Perpetual Menace: Nuclear Weapons and International Order (Routledge Global Security Studies)
A Perpetual Menace: Nuclear Weapons and International Order (Routledge Global Security Studies)
A Perpetual Menace: Nuclear Weapons and International Order (Routledge Global Security Studies)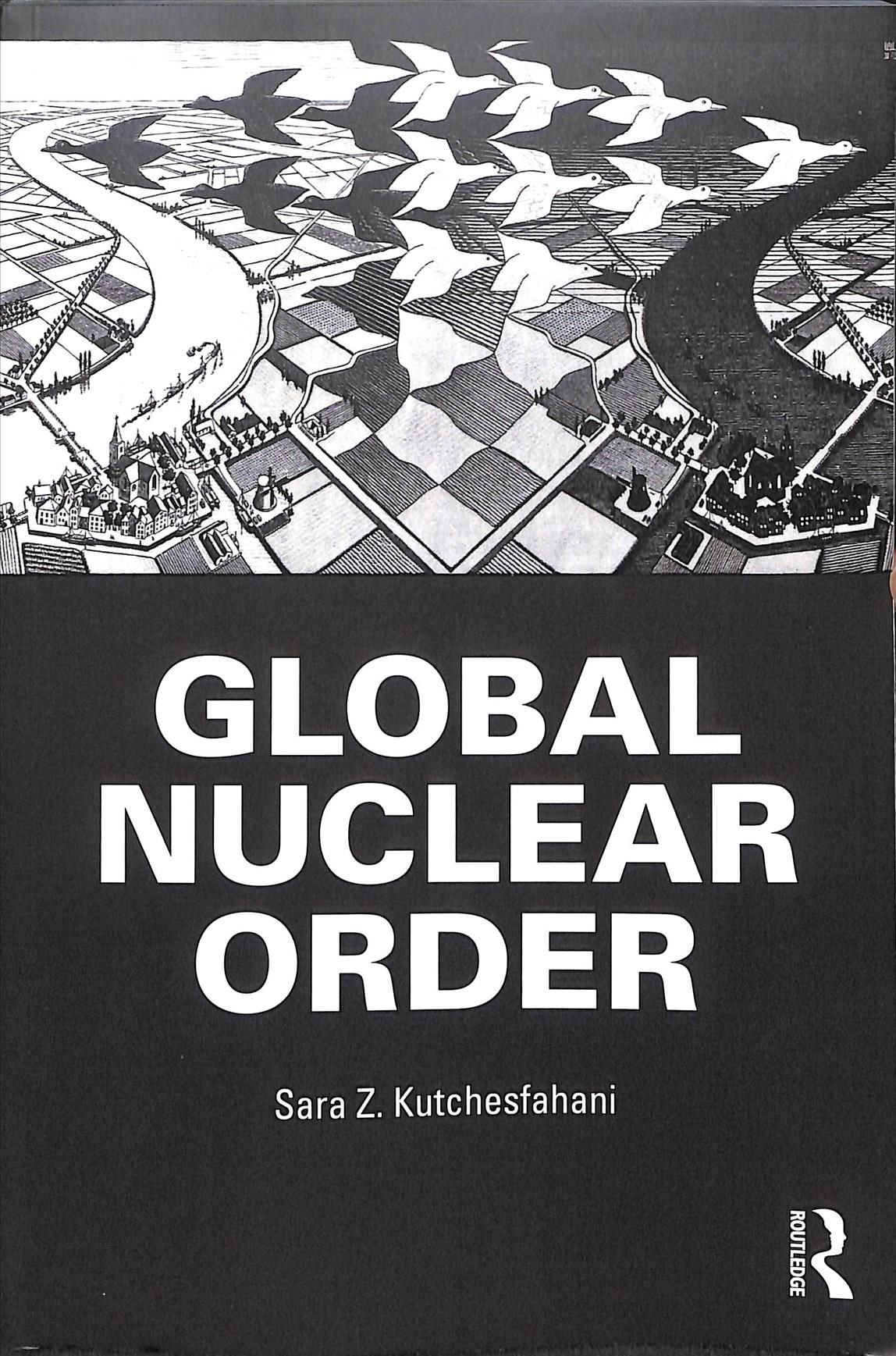 A Perpetual Menace: Nuclear Weapons and International Order (Routledge Global Security Studies)
A Perpetual Menace: Nuclear Weapons and International Order (Routledge Global Security Studies)
A Perpetual Menace: Nuclear Weapons and International Order (Routledge Global Security Studies)
A Perpetual Menace: Nuclear Weapons and International Order (Routledge Global Security Studies)
A Perpetual Menace: Nuclear Weapons and International Order (Routledge Global Security Studies)
A Perpetual Menace: Nuclear Weapons and International Order (Routledge Global Security Studies)
---
Related A Perpetual Menace: Nuclear Weapons and International Order (Routledge Global Security Studies)
---
---
Copyright 2019 - All Right Reserved
---